Hello survivors! The 25th blogpost! And today, we are back to revealing a recruitable character in Dead In Vinland! There are only 2 characters left to reveal! So, without further ado, let us introduce Yaghoub, the Persian Merchant.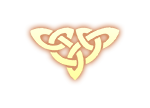 The Persian Empire
Yaghoub comes from the Persian Empire, which is today's Iran. At that time, the Persian Empire was really important. When Cyrus the Great, who belonged to the Achaemenids, in 550 BC conquered the Median, Lydian, and Babylonian empires, he created the first dynasty of this Empire. This means that it covered much of the Ancient World and the largest percentage of the earth's population in history when it was conquered by Alexander the Great.
During the 10th century, most of the inhabitants are Muslim, and this period was a real cultural and scientific renaissance for the Middle-East. This era was called the Islamic Golden Age, as many people from the Islamic World contributed a lot to science, literature, agriculture, philosophy, music…
We can note that Tusi, Avicenna, Qotb-od-Din Shirazi and Biruni were among the most famous Iranian contributors in scientific writings.
The tomb of Hafez, one of the most famous Persian poets during the Islamic Golden Age
Finally, even though the main religion in Iran was Islam, Iran was never Arabized. This means that the Iranians still had some independence, this is also why the Persian Language didn't disappear at that time. This will explain why Yaghoub is very proud of his homeland.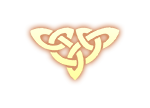 Yaghoub
The one element that will strike you the most when you meet Yaghoub is his clothes. Compared to most of our survivors, Yaghoub is an appealing Persian Merchant with a majestuous beard neatly combed and filled with precious jewels. However, Yaghoub is not your typical merchant. Actually, he describes himself as "one of the poorest merchants of the Persian Empire".
However, he doesn't seem to be so poor, considering the way he dresses and talks…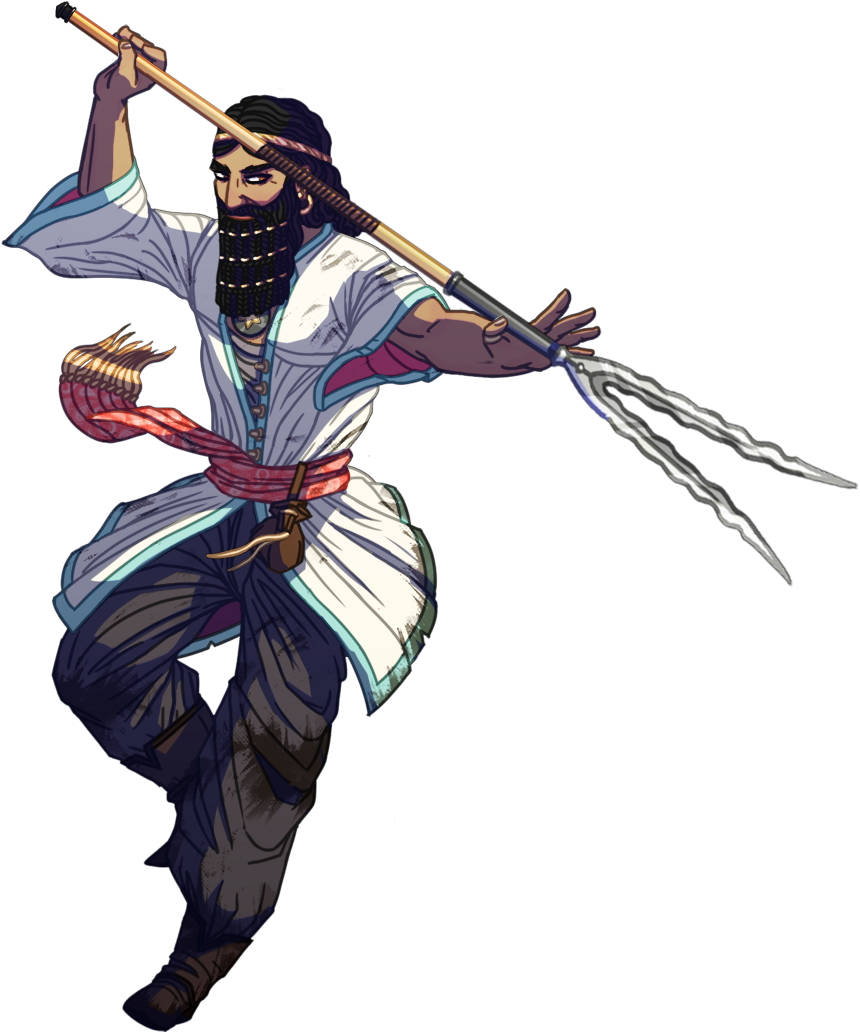 He prefers to call himself an adventurer, and the money he makes from his sales isn't enough to pay all his travels around the world.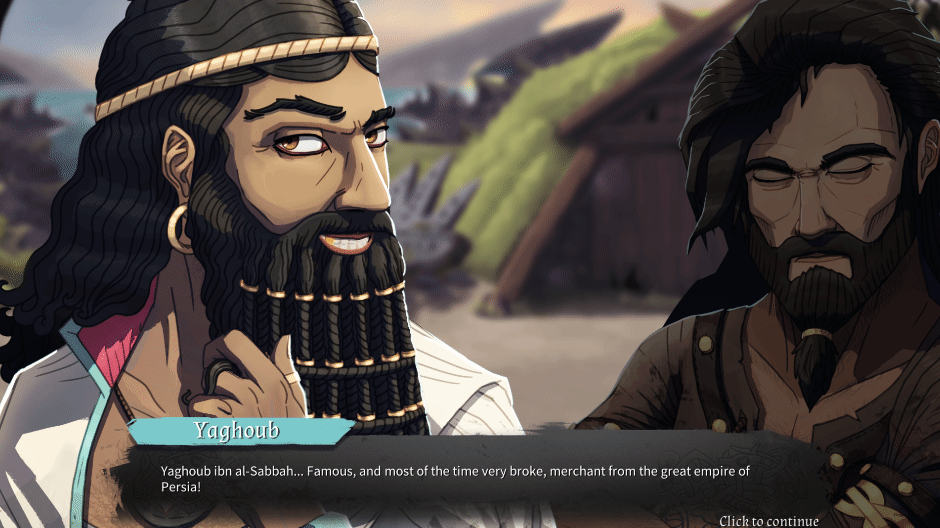 He will always try his best to help Eirik and his family. He shows an astonishing sense of sharing, and an infinite kindness. His smiles will definitely be helpful to Eirik, who tends to be rather depressed on this cursed island…
He's also a great storyteller, and he'll be happy to tell all about his different adventures… Although some may be a little exaggerated… Especially if he talks to you about the way he defeated a three-eyed kraken with a single sword…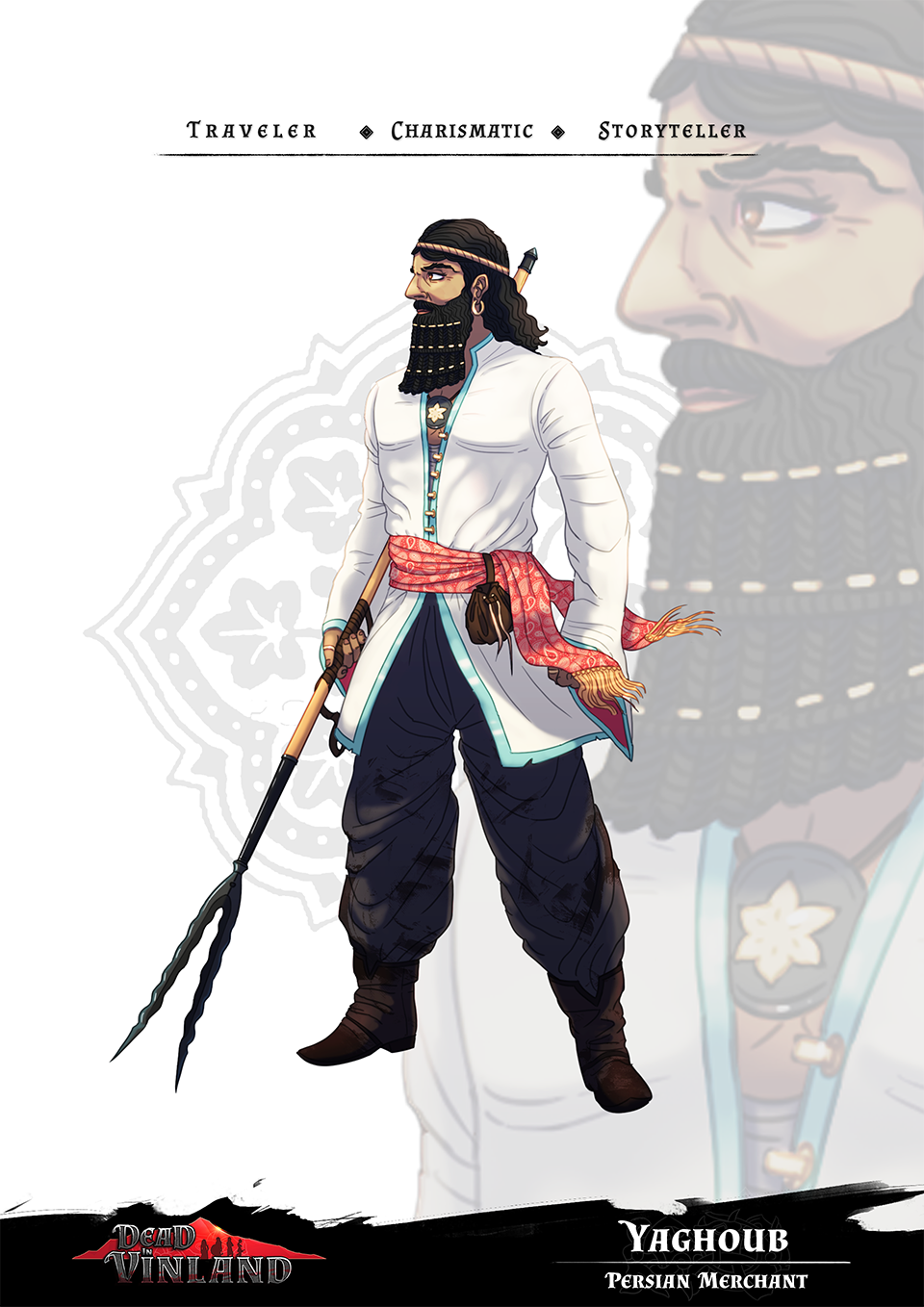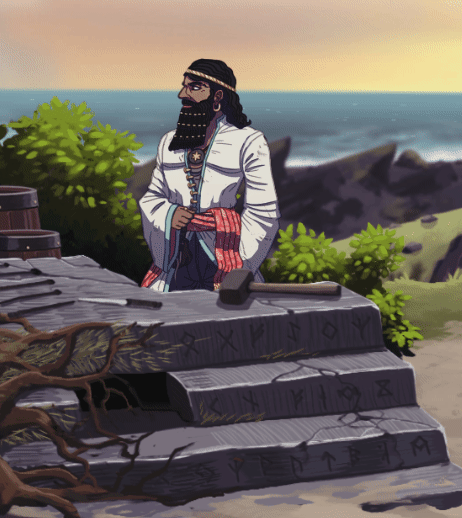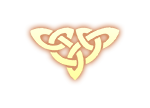 So that's all you need to know about Yaghoub for now!
… Or, is it?
Apparently, Yaghoub has been seen with a mysterious traveller! Who is this person? And what is their relationship? We'll talk about them next time, as this will be the last recruitable character!